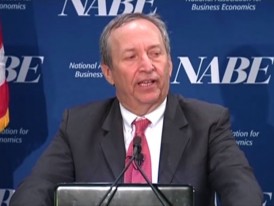 Summers spoke to the National Association for Business Economics' Economic Policy Conference on February 24, 2014 in a speech titled, US Economic Prospects: Secular Stagnation, Hysteresis and the Zero Lower Bound.
Watch the video here.
Summers appeared on a panel with Ben Bernanke, Stan Fischer and Ken Rogoff at the IMF Economic Forum on Friday, November 8, 2013.  The panel, Policy Responses to Crises, included a discussion of optimal policy responses to mitigate the adverse effects of crises.
Watch the video here.