"2014 Year of Anniversaries," Globalist of Year Award, Canadian International Council, April 9, 2014
Fiscal Policy and Full Employment, April 2, Center for Budget and Policy Priorities, April 2, 2014.  Read the speech here.
Economic Possibilities for Our Children, 2013 Martin Feldstein Lecture, NBER Reporter, December 2013
In remarks at the 5th annual Martin Feldstein Lecture at the NBER Summer Institute on July 24, 2013, Summers said, "At a moment of substantial cyclical distress, at a moment of financial preoccupation, I would like to look to the broader technological forces that are operating and that will shape the structure of our economy and how people live over the long term."
IMF Fourteenth Annual Research Conference in Honor of Stanley Fischer, November 8, 2013
In a speech at the IMF Research Conference, Summers said "in the years ahead, to think about how we manage an economy in which the zero nominal interest rate is a chronic and systemic inhibitor of economic activity holding our economies back below their potential. "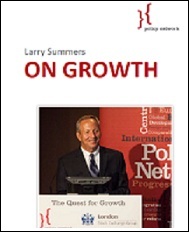 "On Growth," Policy Network Publication, September 17, 2012
In a speech given at the London Stock Exchange on September 6th, 2012, Larry Summers argues that in the current environment, to continue to radically slash public investment is to violate the Hippocratic Oath. "It compromises jobs, it compromises the future, it ultimately raises the debt burdens that are passed on to the next generation."
"Doing R
ight by our Children," Excerpted from Remarks at the Commonfund Forum 2012
"The United States today faces many daunting challenges. But none should take higher priority than that of doing right by our children. In fact, leaving this country a better place for future generations is a good way to think about solving a whole set of government financial challenges. Unfortunately, in many cases, we are currently falling short."
Selected speeches by Lawrence H. Summers:
Selected Congressional Testimony by Lawrence H. Summers:
Testimony

 to Senate Budget Committee, June 4, 2013 (as prepared)

Testimony

 to House Budget Committee, September 9, 2008 (as prepared).

Testimony

 to the Joint Economic Committee of the U.S. Congress regarding the proposed Fiscal Stimulus Package, January 16, 2008.

Testimony

 delivered at the Hearing of the Senate Finance Committee, Washington, D.C., March 8, 2007 (as prepared).

Testimony

 delivered at the Hearing of the Joint Economic Committee, Washington, D.C., January 31, 2007 (as prepared).
For speeches by Mr. Summers during his time at the Director of the National Economic Council.